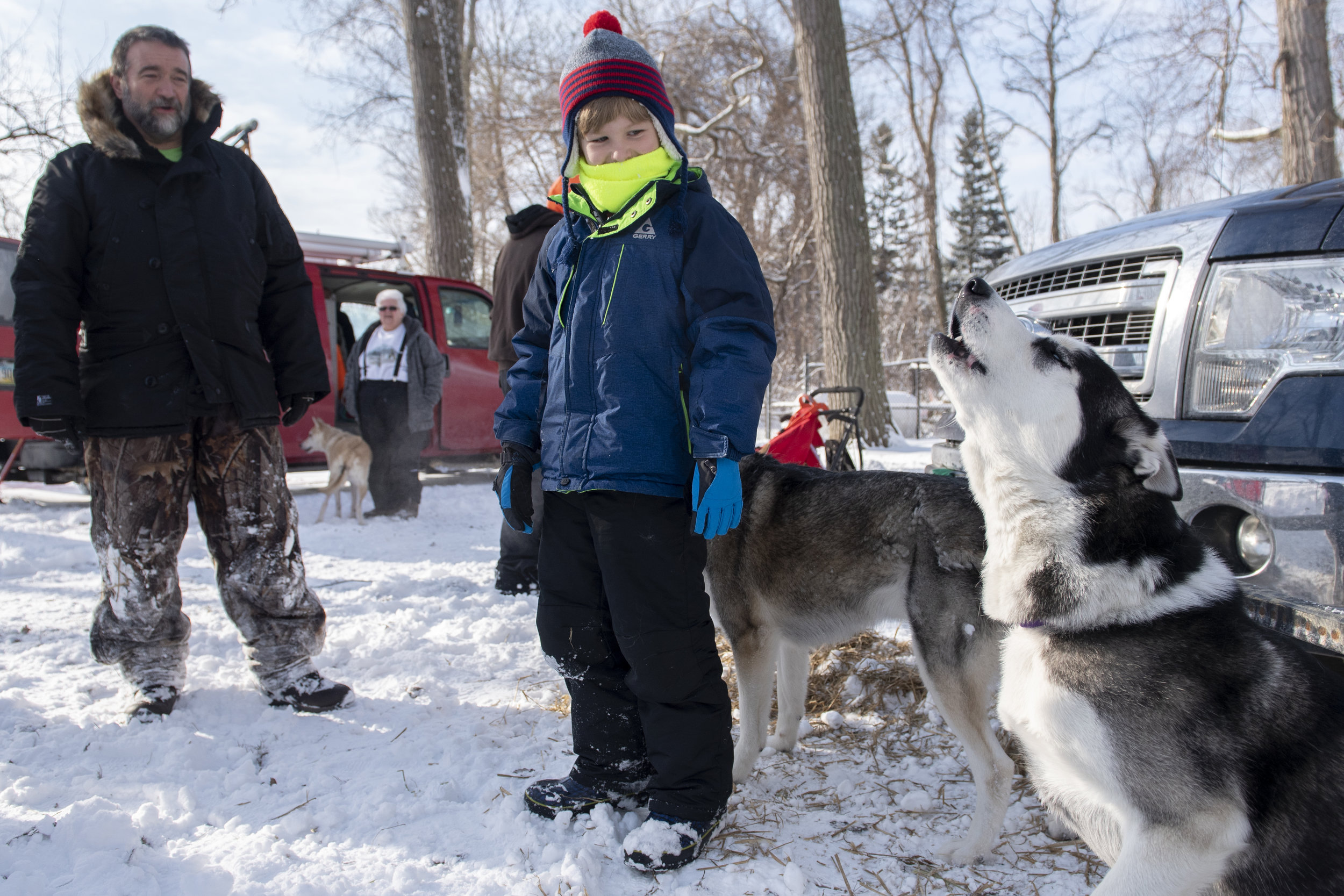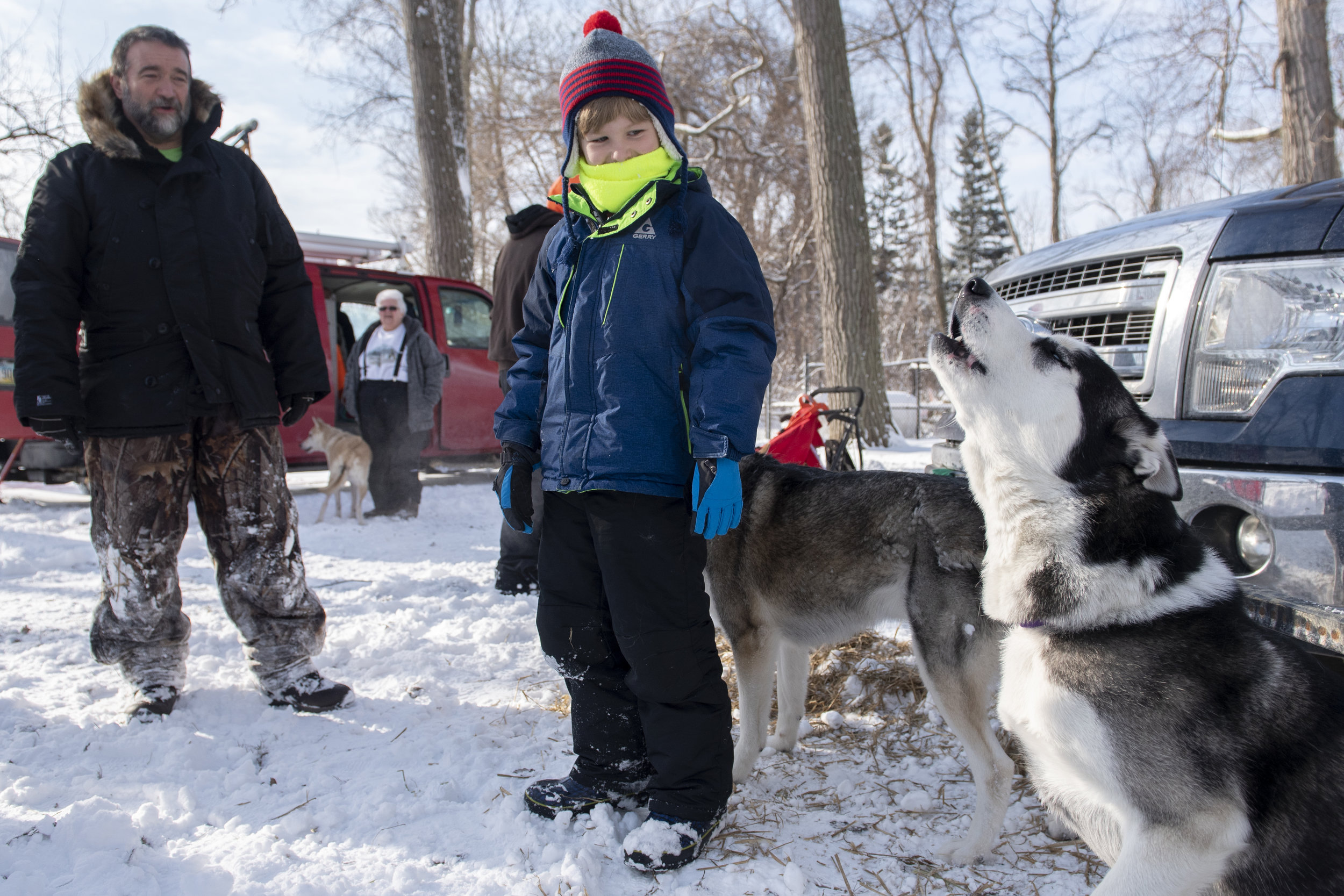 Jacob Owens, 9, of Fairview, PA, looks on as Zoey the husky (part of the Trail Breakers Sled Dog Club) howls at the 5th Annual Presque Isle Snow Day on January 26, 2019. Jacob was there along with his mom, Monica, also of Fairview, for their first visit to the event.
Amy Vallimont, of Erie, strikes a pose on the red carpet at the 2019 Tim Tebow Night to Shine in the Concourse of Union Station at 121 West 14th Street in Erie, PA on February 8, 2019.
Dr. Travis Boston of Willow Creek Equine Veterinary Services checks the teeth of Man, a 21-year-old thoroughbred at Heron Mead Farm in Robesonia, Pennsylvania. Boston regularly goes to barns and stables to make sure the horse's teeth are in prime shape.
Dr. Travis Boston of Willow Creek Equine Veterinary Services shows off the teeth of Champ, a 10-year-old horse at Heron Mead Farm in Robesonia, Pennsylvania. Boston is showing off Champ's teeth to show the fact that because Champ was never a racehorse, he will not have an identification number tattooed on the area just above his upper set of teeth. The practice of tattooing the identification number just ended recently, so horses for years to come will still have that marker.
Gordon, a Boston terrier, gets a smooch from Grace Bononno of Reading on May 28, 2017 at the Dogs & Brews fundraiser on the grounds of the Reading Public Museum.
Lonnie Walker IV, Reading High School basketball phenom and Miami University bound in the fall, gives tips to young children before a pick-up game at Reading High School's THON on May 28, 2017.
Pilot Ken Johansen goes through some last-minute safety checks before doing a flyover at the Reading Regional Airport on June 1, 2017. Johansen and the GEICO Skytypers will perform at the 27th Annual Mid-Atlantic Air Museum's World War II Weekend from June 2-4 at the Reading Regional Airport.
Paul Silk of Leesport poses for a photo at the Community Evangelical Church in Sinking Spring before a bike blessing on June 4, 2017. Silk has been a rider since 1965 and is 33 years sober.
1st Lt. William Tarapchak of Douglasville approaches the fire during a Flag Day flag retirement ceremony at Forest Hill Memorial Park on June 14, 2017 in Exeter Township.
The Johnny Cash Experience performed at the DoubleTree Hotel in downtown Reading on June 15, 2017 as part of Berks Country Fest. David Stone took on the role of Johnny Cash and performed Cash's hits along with songs that influenced Cash's sound.
The Pottsgrove High School Class of 2017 throws their caps in the air after turning their tassels at their commencement ceremony on June 16, 2017.
Genevieve Arena, 10, of Hamburg learns how to make a fly while her sister Joscelyn, 6, looks on during a fly fishing tutorial hosted by the Berks Fly Tyers Club at the Berks County Heritage Center on June 18, 2017.
Charles Bennicoff of Trexlertown hauls wheat during the opening day of the Kutztown Folk Festival at the Kutztown Fairgrounds on July 1, 2017.
Roman Falcone, 5, of Pottstown rides a tractor at the Kutztown Folk Festival on July 3, 2017.
Veronica Steele, 6, and her brother Julien, 3, both of Allentown play in the hay at the Kutztown Folk Festival on July 4, 2017.
Tammy Stubbins of Woodstown, New Jersey checks her makeup at the Kutztown Folk Festival on July 5, 2017.
A burnt out car on the inside of S&W Automotive on 35 North Carroll Street in Reading after a fire struck the building on the morning of July 5, 2017.
Michael Beitinger, 5, of Sinking Spring laughs after he turned on the police siren as Corporal Danial Albright of the Western Berks Police Department looks to turn it off at an event at the Robesonia Community Library where community members could get up close to firetrucks and other large vehicles on July 13, 2017.
D'Sean Ozuna, 9, of the Bronx smiles as Kathi Bracy of Lenhartsville talks about what they're going to do in the upcoming week at the Salem Evangelical Congregation Church on July 14, 2017. The Bracy's are hosting D'Sean for the second straight summer as part of the Fresh Air Fund.
Taylor Matthews of Hamburg (left) races against Sarah Jones of Reading (right) during the 27th Annual Belt Sander Race held at Bertie's Inn in Exeter Township on July 15, 2017. Matthews would finish in third place and Jones finished in second place.
Akanksha Bhusari (left) and her sister Sanchita dance during their Bharatnatyam Arangetram graduation dance recital at Wilson High School on July 15, 2017. Bharatnatyam is a style of Southern Indian Dance that dates back over 2000 years.
Greyson Cascone, 5, of Boyertown holds on tight to his father, Air Force Recruiter Micah Cascone. Micah was stationed in Charleston, South Carolina but came up to Reading to surprise his family at the Reading Fightin Phils game on July 16, 2017.
Pasquale Perrotta, 10, of Myerstown does a front flip off the diving board at the Womelsdorf Swimming Pool on July 13, 2017.
Steve Fellman and his godson Nicolas Ciabbatoni, 15, of Exeter Township get ready to work on the beehives at the Fellman's garden in Cumru Township on July 25, 2017.